IUST students innovate prototype of low-cost ventilator for COVID19 patients
BK News
Awantipora, April 22: A group of engineering students and innovators from Islamic University of Science and Technology (IUST) have developed a prototype of a low-cost ventilator.
Amid the COVID19 outbreak, Kashmir is facing a shortage of healthcare equipment, particularly ventilators which are considered very critical for treating the severely ill coronavirus positive patients.  
 The USP of this innovation is the cost factor as this ventilator would be way cheaper as compared to the ones imported from outside, said one of the group members who made the prototype. 
The prototype named 'Ruhdaar' is expected to be handed over to the medical experts in the SKIMS for evaluation purpose once the innovators are satisfied with its functioning in the laboratory. The raw materials for the frugal ventilator are easily available within J&K, said the group member. 
Team members who designed and developed the prototype were headed by Coordinator of IUST's Design and Innovation Centre, Shahkar Nehvi, Majid Hamid Koul, ex faculty IUST, Peerzada Shoaib, Asif Shah, Zulquarnain, Jawad Ahmad from IUST, Saad Parvaiz from NIT Srinagar, Shabir Hassan from Harvard University as an overseas mentor and Abdul Hamid from Rahim Greens.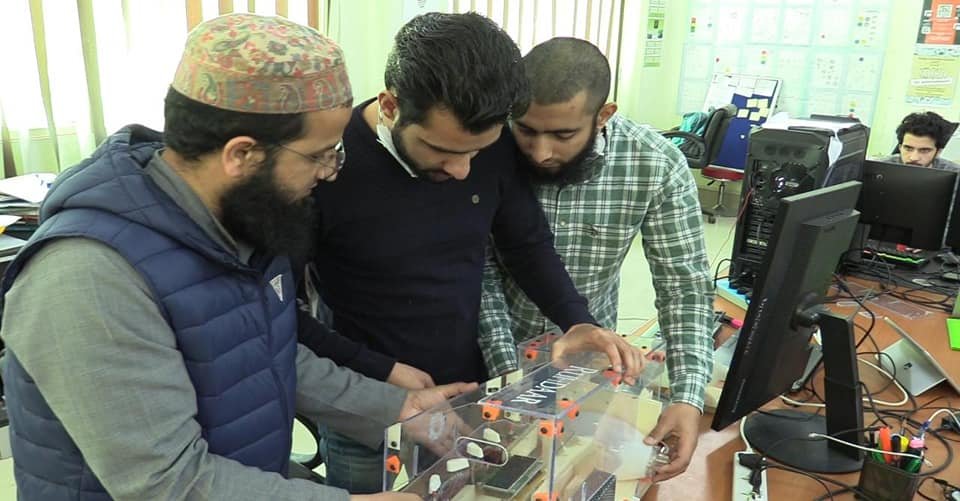 While the prototype, is working successfully in the laboratory, it eventually will be assessed by the medical experts who will have to use it. Once the prototype is approved by medical experts, there is 
the possibility of manufacturing it for commercial use, they said. 
Vice-Chancellor of IUST, Prof Mushtaq A Siddiqi, himself an eminent immunologist, according to a statement, has congratulated the entire team for this achievement.
"I am thrilled because our team members have achieved it in a very short span of time. It is our own design and its components are mostly local," he said. "Once approved, the university will patent it and handover the technology to a startup or a couple of startups so that the ventilator is produced on a large scale." 

J&K Solar Expo-2023 begins at Kashmir Haat
Offers 65% subsidy on rooftop solar, 80% on water pumps
INAM UL HAQ
Srinagar, May 17: Chief Secretary, Arun Kumar Mehta Wednesday inaugurated a week-long mega Solar Expo at Kashmir Haat, Exhibition Ground here.
The expo being held from May 17 to May 23 is being organized by J&K Energy Development Agency (JAKEDA) in collaboration with multiple vendors of the renewable energy industry and other line departments of Jammu and Kashmir.
Mehta appreciated JAKEDA for organizing the expo saying that the initiative will immensely help in raising awareness among the people about the benefits of rooftop solar plants and other beneficiary-oriented schemes.
He asked JAKEDA to organize more such awareness camps and expos across other parts of the UT so that people there would know about rooftop solar plant, KUSUM scheme and its financing pattern and benefits.
The Chief Secretary said that renewable sources of energy holds the future and government envisions a future with reduced dependence on fossil fuel by promoting renewable energy sources. He also noted that besides reducing carbon emissions, the generation of solar energy through rooftop solar programme would also offset power requirements of domestic consumers in J&K there by aiding our Power Discoms to provide quality power to rest of the consumers.
He maintained that these are the major initiatives aimed at reducing the dependence of people over fossil fuels for energy. He observed that ultimately the future belongs to renewable energy. He further gave out that the energy besides clean and less hazardous is cost-effective for the people. He encouraged them to readily adopt this futuristic technology for both their domestic and agricultural purposes in order to save their resources and environment as well.
Solar Expo at Kashmir Haat. On the occasion, the Commissioner Secretary, Science and Technology, Saurabh Bhagat remarked that the department is making concerted efforts to promote both schemes. He made out that Under Ministry of New and Renewable Energy, GoI's Schemes, domestic electricity consumers across the UT can install Rooftop Solar PV Plants for electricity purpose and can also avail the benefit of installation of solar-powered pumps under PM-KUSUM in order to fulfil their irrigation needs.
Moreover it was made out that under this Rooftop Solar scheme, subsidy upto 65% is being provided to consumers for installing Solar Photovoltaic rooftops. The solar rooftops are available from 1 KW to 10 KW capacity and five years free maintenance is also provided to the consumers.
About the PM-KUSUM, it was said that the same was launched by the Government of India to increase the income of farmers and provide sources for irrigation for the upliftment of agricultural sector. It was also added that the government entails to provide maximum benefit to farmers from this beneficiary oriented scheme.
The scheme allows the farmers to install subsidized Solar Powered Pumps upto 10 HP capacity for irrigation purposes with a choice of AC/DC surface and submersible pumps. Under the KUSUM scheme, the Central and the UT government provides a subsidy of upto 80% while as the beneficiary/farmer has to bear only 20% cost of the machinery to avail the benefit of the scheme.
Impact of COVID19 on Telecom Sector
Mohmad Iqbal Marazi
The COVID19 pandemic – perhaps more than any other event in human history – has demonstrated the critical importance that telecommunications infrastructure plays in keeping businesses, governments and societies connected and running. Due to the economic and social disruption caused by the pandemic, people across the globe rely on technology for information, for social distancing and working from home.
The telecommunications sector has seen tremendous importance and technological advances over the past few decades, with mobility, broadband and internet services growing in capability and reach across the globe. The International Communication Union (ITU) estimates that there were over 4 billion internet users at the end of 2019. The telecommunications industry consists of digital infrastructure such as fibre, towers, active networks, telephony, video and e-commerce services, etc. The sector has remained 'mission-critical' to keep economies moving under the lockdown in at least three different ways:
1) Providing critical connectivity to businesses
2) Facilitating work-from-home arrangements
3) Keeping individuals and societies connected and informed with access to medical, financial, commercial, and other essential services during isolation
COVID19's IMPACT ON SECTOR
Many telecom players – from broadband to mobile to data centre operators – have benefitted from a surge in the traffic of data and voice, as a result, the telecommunications sector performed well compared to other sectors during the COVID19 pandemic. In sharp contrast to many other industries, the telecommunications sector was exempted from main Covid19-related restrictions such as stay-at-home, quarantine requirements and so on and was recognised as an essential service. Some telecommunication companies have been strengthened by the short-term spike in data traffic and increased use of broadband and internet services, as more people were working from home and relied on video meetings. As a result, the telecom sector remained acyclic throughout the crisis.
 COVID19's PANDEMIC CHALLENGES
The long-drawn pandemic has taken its toll on telecom sales and distribution networks, especially considering that the footfall of customers at direct franchises has been a major revenue source for the longest time. In many regions, the telecom sector is still reeling from the social distancing measures which has caused an abrupt disconnect between the retail Point of Sale (POS) and subscribers.
As the pandemic restrictions loom over telecom operators, they experience a growing need to develop a robust digital ecosystem, the vulnerability in their existing systems. In an effort to stay resilient in the face of future inevitable events, like the COVID19 pandemic, it is pivotal for telecom companies to increase investment in digital transformation solutions for S&D. Even though many telecom companies are moving towards digitization to bounce back post- COVID19, the inconsistency and lack of synergy in overall sales and distribution (especially across direct and indirect channels) has impeded their growth.
The author is a PG student of economics at HNB Garhwal Central University Uttrakhand. He can be reached at iqbalmarazi999@gmail.com
Kashmir-based 'SmartFish' bags national 'Big Fish Pool' startup grant
Srinagar, Aug 29: A Kashmir-based startup idea 'SmartFish' which aims to automate aquaculture with the help of IoT, has been declared the winner at the national level 'Big Fish Pool' startup event and has been awarded Rs3.5 lakh grant.
Falak Jan and Naveed Hamid from Sher-e-Kashmir University of Agricultural Sciences and Technology of Kashmir have not only successfully defended their idea but have received an open offer grant extendable upto Rs 15 lakh for its expansion.
'The Big Fish Pool', a significant national startup event, was organised by CT University (CTU) and associated partners in an effort to bring together young entrepreneurs from various across the country. It assisted prospective young entrepreneurs in pitching their ideas to venture capitalists and investors, who evaluated them and provided the young business owners with financial support.
Falak Jan and Naveed Hamid's, 'SmartFish' successfully defended the Investors Meet to Secure  Rs3.50 lakh for their idea during "The Grand Big Fish Pool" by Startup Punjab, CT University, and several other investors. The AI-driven, BlackEye Technology acknowledged the concept behind 'SmartFish' and immediately pledged financial support of Rs3.50 lakh and more in the future.
A SmartFish: What Is It?
The concept behind SmartFish is to revolutionise aquaculture by using IoT (internet of things) sensors to automate every aspect of a fishpond. Remote control will be used to control everything.
The device will assist the fishermen in a number of ways, including controlling fish feeding and monitoring temperature and oxygen levels. Additionally, it can aid in monitoring outdoor activities involving ponds. Fishermen will have total control over every aspect of fish. The shelves will be created to look towards any untoward happing in the water.
The SmartFish team will receive mentoring support from The Big Fish Pool as well. The team first requested a Rs3 lakh investment, but more was given as a result of the presentation of the original idea. Additionally, if the team needs more funding to scale out the technology, they will be provided with any amount up to Rs15 lakh.
It's a necessary practice for the fisheries sector in the modern day; this model is needed in Maharashtra, Gujarat, Punjab, etc. for the development of the sector.
The team is also working on their next models that will focus on agriculturally related activities, particularly on unexplored concepts, giving fisherman AI-based devices that will do the work in a matter of seconds and separate the waste in the boxes. This is known as the idea of "Waste Wealth" where technology is utilised to extract valuable resources, recycle waste, and generate electricity
The J&K UT, the customer, and the vendor will all profit from this. The idea is that this device will be 1 foot tall, lightweight, and powered by DC (Direct Current) and sensors. "We are looking forward to making it possible here, it is already available in some areas outside India," Naveed said
Naveed Bhat and Falak Jan expressed their gratitude to the SKUAST-K authorities, in particular Vice Chancellor Nazir Ahmad Ganai, for their guidance, inspiration, and support.
Among the 300+ national teams that were selected for investment, Team SmartFish was chosen by eminent investors from across the country. Of the 40 teams that made the shortlist, only three received funding for the investment, including SmartFish. In May 2022, the registration process was completed. Additionally, SmartFish won 'Skils Panacea',  where they gave the winning team a startup foundation course worth  Rs85,000.