SKUAST-K holds seminar on implementation of NEP-20 in agricultural institutions
Varsity creating its unique path in modern agri-education: Former VC Prof Tej Pratap
Srinagar, Feb 19: Sher-e-Kashmir University of Agricultural Sciences and Technology of Kashmir organised a seminar on 'Implementation of National Education Policy (NEP) 2020 by Agricultural Institutions' for deans, directors, HODs, professors and other officers of the university.
Vice Chancellor, GB Pant University of Agriculture and Technology Pantnagar, Prof Tej Pratap, and Vice Chancellor, SKUAST-K, Prof Nazir Ahmad Ganai, conducted the workshop to acquaint the SKUAST-K academics and office bearers with the various objectives and implementation process of NEP-20 by the agricultural institutions.
Prof Pratap, who is also chairman of the Indian Council of Agricultural Research (ICAR) committee set up for the implementation of NEP-20 in agricultural universities and heads the 6th Deans Committee for modification of farm education curriculums as per the new education policy, gave a detailed overview on the changing role and preparedness of agricultural institutions into multidisciplinary professional and skill universities as envisioned in the NEP-20.
He said the courses offered by agriculture varsities will have a more flexible structure and will be encouraged to become inter-disciplinary with flexibility in choosing vocational courses as the ICAR is working to bring agricultural education in line with the vision of the new policy unveiled by the Centre.
While preparing the students for creativity, critical thinking and conflict of perceptions, Prof Pratap said, NEP aims to enhance student employability by equipping them with different skills to overcome the challenge of unemployment.
Prof Tej Pratap, who also served as the vice-chancellor of SKUAST-K from 2010 to 2015, while complementing the university for its overall development over the years, said he is happy to see the university growing in each aspect of agricultural education, be it research, extension, academics, or innovations.
After listening to Vice Chancellor Prof Ganai about the SKUAST-K's institutional development plan and its vision related to the implementation of NEP-20, Prof Tej Pratap said, "There are very few institutions in the country, who are at the level of thinking for creating its own path, the way SKUAST-K has envisioned its unique path in modern agri-education. This is beyond NEP. And this is the way forward."
Prof Ganai gave a detailed overview of the varsity's institutional development plan for making SKUAST-K a preferred Agri-Education destination and to develop a model education system to generate the next-gen graduates who will steer technology-driven agriculture in J&K and the country.
Drawing parallelism between NEP and the IDP of SKUAST-K, the vice chancellor said the university under the NAHEP had embarked on a mission to create an inspiring ecosystem for outcome-based learning to foster creativity, innovation and entrepreneurial aptitude.
Prof Ganai said SKUAST-K has already got approval for establishing the innovation and entrepreneurship centre and AI&ML Centre for fostering startups and tech-based solutions for agriculture.
Besides scientists and scholars, all the directors, deans HoDs, professors and adminstrative officers of the varsity attended the seminar.
DDG ICAR on SKUAST-K visit to reviews World Bank-funded NAHEP
BK Media
Srinagar, June 9: Deputy Director General (DDG) of Indian Council of Agricultural Research (ICAR), New Delhi, Dr Rakesh Chandra Agrawal reviewed the institutional development plan (IDP) of Sher-e-Kashmir University of Agricultural University of Sciences and Technology of Kashmir under the World Bank-ICAR funded National Agricultural Higher Education Project (NAHEP) and presided over a series of functions here at Shalimar campus on Thursday.
Dr Agrawal, who is also the National Director of NAHEP, is on a three-day visit to SKUAST-K to assess the progress of the prestigious Rs 30-crore project awarded to the farm university in July 2019.
The DDG, while addressing the review meeting on early Thursday morning, complimented SKUAST-K for being one of the top performers under the NAHEP. He said among 64 farm universities and institutes, SKUAST-K is doing remarkably well under the project, and both ICAR and World Bank monitoring and evaluation teams have given excellent reviews and have rated the SKUAST-K performance as outstanding.
While talking about the implementation of NEP-2020 in agricultural universities, Dr Agrawal said now the focus should be on own revenue generation so that these institutions can become self-reliant by 2035 as required by the policy. He said SKUAST-K has a lot of opportunities to create its revenue model from various entrepreneurial ventures and services it can provide.
While appreciating SKUAST-K's proactive role in sending its faculty and students for overseas trainings and exposure trips, Dr Agrawal said, to become a global university, SKUAST-K must now work on bringing international students to the university and organise international programmes. During the meeting, he also interacted with the SKUAST-K students, who are on a visit to Kansas State University, USA. He said this kind of exposure helps making students future leaders and provides them with the confidence to overcome various challenges while building their careers.
The DDG stressed providing an eco-system to students so that after leaving the university they won't be dependent on government jobs rather open their own entrepreneurial ventures.
Vice Chancellor, SKUAST-K, Prof Nazir Ahmad Ganai, while briefing the DDG about the progress of SKUAST-K under NAHEP said that the place the university has made for itself among the top farm institutions of the country is only because of the ICAR support and NAHEP. The changes that have happened in the university and the milestones achieved are because of the NAHEP. He said the university is conducting every day an event, training or workshop under the NAHEP.
Prof Ganai said earlier that students in the university would attend classes, complete the degree and go home to wait for a job but due to exposure and skills they got because of the project have changed their mindset. Now they are thinking of themselves as the solution providers. He said that SKUAST-K has to become the agent of change to work for making the J&K farm led bio-economy of the country. He said the project has also inspired us to set the goal of becoming the first innovation-led farm university in the country.
Director Education, Prof MN Khan presented a vote of thanks. OSD to Vice Chancellor, Prof Azmat Alam Khan gave a detailed overview of the NAHEP activities carried out in the university and the impact of these activities in terms of output and outcomes. He said that the university has already four private limited companies and a number of startups are in the process of registration. All the deans, directors HODs, faculty members and students attended the meeting.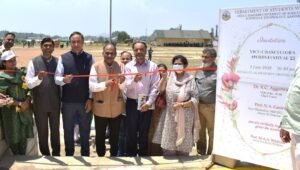 On the occasion, the IDP newsletter 'Agrucation' and some other publications of the university were also released by the DDG ICAR.
After the review meeting, Dr Agrawal visited the startup exhibition and interacted with the startup founders about their ventures. The startup founders, innovators and faculty members, who went for overseas fellowships under NAHEP, presented their ideas and outcomes. outcomes and ideas
Later, Dr Agrawal inaugurated Vice Chancellor's Sports Festival. A cultural programme by the students under Dean Students Welfare was also presented.
For the next two days, Dr Agrawal will be visiting the Faculty of Veterinary Sciences and Faculty of Forestry, where he will visit NAHEP created facilities, attend various functions and interact with students.
Smartphones in Educational System
Khalid Dar
Digitalization is the process of converting information into a digital form. In education, it can be used as a means to increase the efficiency of teaching and learning processes.
Smartphones in Educational System. In this era where one of the most significant challenges facing our society is teaching children all the necessary skills for growing up in a technology-dominated age, it seems imperative that we equip them with the knowledge necessary for them to follow best practices when using new technologies such as smartphones. The digital age has revolutionized the way we do things and so has it changed the way people are getting educated. There is a lot of debate now among people and educators about whether technology should be a part of essential education or not. Some have argued that it helps to apply life skills that can be used in real-life situations, while others think that it distracts students from learning more traditional skills. But as technology progresses, it's becoming harder to ignore its influence on our lives—especially in the field of education. And with time, banning mobile phones will become an ineffective solution as they are being made more powerful and sophisticated by the day.
With the help of digital tools, students can learn at their own pace and time. They can also access information from all over the world without any geographical boundaries. (NDLI) National Digital Library of India, Project Gutenberg, Khan Academy, etc., are such examples of knowledge repository for students. This is why many schools are integrating digital education into their curriculum. Digital assets can be used to provide guidance and inform students about topics that are relevant in the modern world.
The role of digital assets in our education system has been a topic of discussion for many years. With the advent of new technologies, it is now possible for students to learn anywhere and at any time. We should not ban the use of smartphones in educational institutions. They provide a lot of benefits to the students and teachers. In developing nations like ours, children walk miles in order to get education. As more students are now able to afford smartphones and internet access, so their classrooms are now able to keep up. Smartphones can be a great tool for the education system, especially for poor students who cannot afford primary resources like paper, pencils, costly textbooks and reference books.
As technology continues to evolve, educators are using it more and more in the classroom. The advantages of mobile phones as an educational tool are increasing in numbers every day, making them an essential part of any curriculum plan. There is a research study that has proved that mobile phones can actually improve learning outcomes for students by reducing stress levels and making them more engaged with the lesson. Mobile devices provide an entry point for children to the eLearning world that has never had one before. They allow them to have access to educational materials at all times without having to travel miles just to go to the nearest library or school during the harsh winters or hot humid summers. A digital asset is a significant part of any educational program. They help students develop their digital literacy skills, as well as understand the consequences associated with getting on a particular website or app and how they can avoid them.—
Schools from across the globe are now turning to digital platforms for delivering content. Advantages of digital platforms for education are endless. They provide students with a wide range of resources, thereby giving them a diverse knowledge-base that is necessary for the future. Some of the examples of these resources include videos, eBooks, and simulations- all in one place. This helps students learn better and make connections between different topics which they probably would not have otherwise been able to do on their own. use of digital tools in the education system is becoming a trend. They can help improve students' performance, it can also be used to capture their interest and provide them with the right kind of information. Digital assets are also making it easier for schools to track a student's progress, thereby providing teachers with useful feedback that helps them plan their lessons better.
Mobile phones can be a boon for the education system. However, the adverse effects of smartphones in education cannot be ignored. Some studies have shown that academic performance declines when students use mobile phones excessively during lessons. But this does not justify a blanket ban on the use of smartphones by our students, to address this problem, schools should provide counselling to students and make them aware of the harms that illegal and excessive usage of digital devices can do to their academic performance. It is needed to have proper guidance for students to know how to use their mobile phones in an educational environment. This can lead to better efficiency of time, as well as better productivity in the classroom. Counselling plays a role in influencing students to use digital assets properly so that they do not hurt themselves while they are exploring new technology.
It is an important step for the future of our nation to promote digital assets in our education system. With this, remote students can learn better and more effectively. Digital assets are a great idea for the future of the Indian education system as it will provide many benefits to students – from being able to learn better and more effectively to the cost factor associated with teaching now a day.
The author is a teaching assistant in J&K Higher Education Department. You can reach him at [email protected]
Prof Nilofer Khan becomes first woman VC of Kashmir University   
Malik Nisar
Srinagar, May 19: Srinagar, May 19: Lt Governor Manoj Sinha on Thursday appointed Prof Nilofer Khan as the vice chancellor of University of Kashmir.
Prof Khan is the first woman to become the vice chancellor of KU since its inception.
Lt Governor in the exercise of powers vested on him under Section 12 of the Kashmir and Jammu Universities ACT, 1969, in his capacity as the chancellor of University of Kashmir has appointed Prof Khan as the Vice-Chancellor of University of Kashmir, for the period of three years, mentions the order issued by the Raj Bhawan here.
Prof Khan worked as a senior professor at the KU's Department of Home Science. She has vast experience as an educationist and administrator and has previously headed various departments and faculties.
She will replace earth-scientist Prof Talat Ahmed whose three-year term ended in August 2021.