Floriculture Startups: Let's revive the fragrance of Kashmir
A rapidly growing agri-industrial sector, Floriculture has an annual market share of Rs 15,000 crore in India with a yearly growth of 25%. Given the favourable climatic conditions, J&K has enormous potential for commercial floriculture. A detailed account of the present scenario of the sector and its prospectus of becoming a sunrise industry in Kashmir.
Floriculture encompasses the cultivation of flowers, leaves, climbers, trees, shrubs, cacti, succulents, and other plants and their marketing and the creation of value-added goods. Bedding plants, houseplants, flowering garden & container plants, cut produced greens, and cut flowers are all examples of floriculture crops. Young flowering plants make up bedding and garden plants. It is thought to provide serendipity—a shift in one's perspective about someone's way of life. Flowers are cultivated in cell packs (flats or trays), pots, or hanging baskets, usually in a controlled environment, and are mostly sold for use in gardens and landscaping. The flowers are available in two forms: one in which the flowers are sold individually or in dozens without any packing or processing, and another in which the flowers are offered in bunches in which cut flowers are sold to the customers with arrangements like bouquets, flower vase arrangement, wedding arrangements, wreaths etc.
Economic aspect
Floriculture is a rapidly growing agri-industrial sector around the world, particularly as a potential money-maker for many countries. Many flowers and ornamental plants are planted for both domestic and international markets. They generate more returns per hectare area than any other agricultural commodity. The extraction of essential oils and the production of cost-effective products like Gulkand are both extremely beneficial. On a commercial scale, more than 145 industries are currently involved in flower cultivation. The establishment of the flower industry and perfume companies can contribute significantly to the reduction of unemployment. In 2014-15, the floriculture industry cultivated 248.51 thousand hectares of land. In 2016-17, the country exported 22086.10 MT of floriculture products to the world, valued at Rs 548.74 crores (US$82.05 million). Floriculture has become one of the most important commercial businesses in Indian agriculture due to considerable growth in demand for low-cost and loose flowers. India is ranked 18th in the world, with a 0.6 percent share of the global floriculture trade. Exports grew at a CAGR of 4.33 percent over the last decade. In the country as a whole, the domestic Indian market is growing at a 25% rate each year.
Aesthetic aspect
Landscaping is a billion-dollar-a-year industry in many states, and it ultimately adds to the monetary worth of any property. The health of a nation's population is tied to its riches. We can safeguard the healthy development of our residents by offering open breathing spaces through bio-aesthetic planning and landscape gardening, as seen in Chandigarh. Horticulture therapy is a new level of horticulture science that uses garden, landscape plants, components of plants, and growing activity as tools to heal psychic debility. Bio aesthetic horticulture is emerging as a new occupational therapeutic tool to restore the lost rhythm and harmony to the human self or inner environment because the bio-force of plants offers a lasting solution to the problems of human bio-force. It's used in psychiatric hospitals, general hospitals, physical rehabilitation centres, jails, schools, and senior living facilities.
Development of floriculture in India
The Indian government has designated floriculture as a sunrise sector with a 100% export-oriented status. Floriculture has become one of the most important commercial trades in agriculture as a result of the continual increase in demand. Floriculture is seen as a high-growth business in India. The liberalisation of industrial and trade policies set the door for the expansion of cut flower exports. Importing planting material of international standard was previously possible under the new seed policy. Commercial floriculture has been discovered to have a larger potential per unit area than other field crops, making it a profitable industry. The liberalised economy has encouraged Indian businesses to set up export-oriented floriculture operations in climate-controlled environments. In 2016-17, the Indian floriculture sector was worth Rs 9000 crore. In 2018, the Indian floriculture market was valued at Rs15700 crore. The market is expected to reach Rs 47200 crore by 2024, with a 20 percent CAGR between 2019 and 2024.
Rose, Jasmine, Orchid, Glardlya, Carnations, and Marigolds are popular commercial flowers with a total cropped area of 71 lakh acres in 2016-17. Since the last five years, it has grown at a CAGR of 25%. In 2016-17, total production was 22.36 lakh MT, with loose flowers accounting for over 69 percent of total production. India's main export markets are the United States, Germany, the United Kingdom, the Netherlands, and the Arab Emirates.
Opportunities
The demand for flowers is expanding at a quick rate as the level of living rises and people's lifestyles change as a result of socio-economic changes in India. Encouraged by the rapid increase in domestic demand, a substantial number of export-oriented floriculture projects are looking to the domestic market to sell their produce during lean export seasons. In various big cities and industrial townships, there is a rapidly growing demand for different varieties of flowers for institutional buyers such as star hotels, big organisations and corporate houses, churches, temples, mosques, travel agencies, hospitals, embassies and trade missions, foreign organisations and organisations in the hospitality industry, and so on. A burgeoning flower market at the local, national, and international levels, where demand exceeds supply and global demand is expected to expand at a rate of 15 percent to 25 percent per year. Because industrialised countries rely heavily on imports to meet domestic demand, their high manufacturing costs present an opportunity.
The majority of major flower-producing countries are now industrialised and have a tiny surface area. As a result, the cost of acquiring land is quite high, making it unappealing to establish floriculture units in these nations. As a result, India has a huge opportunity to capitalise on the floriculture industry.
Floriculture Startup opportunities in Kashmir
Floriculture Startups in Kashmir have been highlighted as a successful sector, because of the favourable climate and commercial value. The demand for flowers and floral products is increasing as people's lifestyles change and cities grow. Flowers have an important part in J&K because of their aesthetic value in decorating homes and in social events such as weddings, social gatherings, and funerals.
In the current context, the floriculture business has emerged as one of the most popular startup ideas. The economy has suffered a severe dip as a result of the COVID-19 outbreak, and many employees have lost their employment. Still, a large number of unemployed teenagers are looking for any unique company concept that will provide them with a source of income. This type of business has huge potential to survive and grow and prove mettle in the competitive environment.
Floriculture is a fantastic opportunity for anyone who loves gardening and wants to put their heart and soul into it. It is possible to get profitable financial results by operating a flower farming business or startup. Technical knowledge is not required for people interested in starting a floriculture business. Having the basic knowledge about floriculture and other simple concepts concerning running a business would be enough to commence this business anywhere in India.
Floriculture has been nurtured as a money-making Agri-business inside India's geographical limitations.
Floriculture includes
Annual, biennial & perennial ornamentals, such as cacti as well as other succulents
Trees
Shrubs
Bromeliads
Lawn and ornamental grasses
Bamboos
Climbers
Bulbous plants
Orchids
Foliage
Bedding
Pot and house plants
Palms
Cycads
Cut and loose flowers seed
Bulb production of ornamentals
Fillers
Ferns
Dried flowers or plant parts
Other value-added products such as edible pigments, extraction of essential oils & their marketing, as well.
Steps for Floriculture Startup
Developing your Startup Business Plan
Before initiating any business, you must fabricate a sound business plan.
You must acquire cooling equipment such as a freezer to keep your flowers fresh and beautiful and increase their shelf life as the life span of flowers is otherwise small.
You must also examine the manpower requirement that you might demand to design the floral arrangement and for the delivery purpose as well.
Either you want to proceed ahead for a franchise or source to commence your business like flower companies or florists.
There is no need for proper mentoring before initiating the floriculture business, as this is all about basic knowledge, and no bookish concepts can help you develop your potential to run this business.
Create a well-structured plan before stepping ahead for starting a floriculture business in India. You may open your shop in your locality.
If you are planning to transform your dream into reality, you would have to pen down your thoughts on paper and do proper planning before going ahead.
Prepare the idea concerning the capital requirement for the floriculture business.
Check out the crucial factors, such as the floral delivery platform to give the finishing touch to your business plan.
You may also evaluate the staff requirements that you would have to prepare and leap forward to the floral arrangement plans and deliveries.
Government Programmes and Schemes
The Department of Agriculture and Cooperation, which is part of the Ministry of Agriculture, is the nodal institution in charge of floriculture development. It is in charge of developing and implementing national policies and programmes targeted at attaining rapid agricultural expansion by maximising the country's land, water, soil, and plant resources. A thrust area for support is the production of cut flowers for export. The Agricultural and Processed Food Products Export Development Authority (APEDA), the nodal institution for promoting agri-exports, including flowers, has launched several programmes aimed at boosting the country's floriculture exports. These include infrastructural development, packaging, market growth, airfreight subsidies for the export of cut flowers and tissue-cultured plants, database upgrades, and so on.100% Export Oriented Units are also eligible for incentives such as duty-free capital goods imports. Import duties on cut flowers, flower seeds, tissue-cultured plants, and other items have also been decreased. The installation of walk-in cold storage for export production has been permitted at international airports. At many international airports, initiatives have been initiated to aid exporters by offering cold storage and cargo handling facilities for perishable products. In cold storage units, a direct subsidy of up to 50% is also available. APEDA also provides a subsidy on improved packaging materials to encourage their use.
NABARD is offering financial support to hi-tech units at reasonable interest rates to encourage entrepreneurship in the floriculture sector. The government has launched several schemes to promote and develop the floriculture sector, including "Integrated Development of Commercial Floriculture," which aims to improve traditional flower and cut flower production and productivity through the availability of quality planting material, as well as the production of the off-season and high-quality flowers through protected cultivation., improvement in post-harvest handling of flowers and training persons for scientific floriculture. Many state governments have established distinct ministries to promote floriculture in their jurisdictions.
The floriculture business is a great option for those who get fascinated and lured by the mesmerising beauty of flowers. It's a business that holds immense potential in the current scenario. It provides an opportunity for the youth to take up floriculture as a startup and begin their journey of profitable business in Jammu and Kashmir. By gearing for this innovative business. By spreading joy and fragrance in people's lives.
An agri-business expert, Naveed Bhat is the business development analyst at Innovation & Entrepreneurship Cell, SKUAST-Kashmir
DDG ICAR on SKUAST-K visit to reviews World Bank-funded NAHEP
BK Media
Srinagar, June 9: Deputy Director General (DDG) of Indian Council of Agricultural Research (ICAR), New Delhi, Dr Rakesh Chandra Agrawal reviewed the institutional development plan (IDP) of Sher-e-Kashmir University of Agricultural University of Sciences and Technology of Kashmir under the World Bank-ICAR funded National Agricultural Higher Education Project (NAHEP) and presided over a series of functions here at Shalimar campus on Thursday.
Dr Agrawal, who is also the National Director of NAHEP, is on a three-day visit to SKUAST-K to assess the progress of the prestigious Rs 30-crore project awarded to the farm university in July 2019.
The DDG, while addressing the review meeting on early Thursday morning, complimented SKUAST-K for being one of the top performers under the NAHEP. He said among 64 farm universities and institutes, SKUAST-K is doing remarkably well under the project, and both ICAR and World Bank monitoring and evaluation teams have given excellent reviews and have rated the SKUAST-K performance as outstanding.
While talking about the implementation of NEP-2020 in agricultural universities, Dr Agrawal said now the focus should be on own revenue generation so that these institutions can become self-reliant by 2035 as required by the policy. He said SKUAST-K has a lot of opportunities to create its revenue model from various entrepreneurial ventures and services it can provide.
While appreciating SKUAST-K's proactive role in sending its faculty and students for overseas trainings and exposure trips, Dr Agrawal said, to become a global university, SKUAST-K must now work on bringing international students to the university and organise international programmes. During the meeting, he also interacted with the SKUAST-K students, who are on a visit to Kansas State University, USA. He said this kind of exposure helps making students future leaders and provides them with the confidence to overcome various challenges while building their careers.
The DDG stressed providing an eco-system to students so that after leaving the university they won't be dependent on government jobs rather open their own entrepreneurial ventures.
Vice Chancellor, SKUAST-K, Prof Nazir Ahmad Ganai, while briefing the DDG about the progress of SKUAST-K under NAHEP said that the place the university has made for itself among the top farm institutions of the country is only because of the ICAR support and NAHEP. The changes that have happened in the university and the milestones achieved are because of the NAHEP. He said the university is conducting every day an event, training or workshop under the NAHEP.
Prof Ganai said earlier that students in the university would attend classes, complete the degree and go home to wait for a job but due to exposure and skills they got because of the project have changed their mindset. Now they are thinking of themselves as the solution providers. He said that SKUAST-K has to become the agent of change to work for making the J&K farm led bio-economy of the country. He said the project has also inspired us to set the goal of becoming the first innovation-led farm university in the country.
Director Education, Prof MN Khan presented a vote of thanks. OSD to Vice Chancellor, Prof Azmat Alam Khan gave a detailed overview of the NAHEP activities carried out in the university and the impact of these activities in terms of output and outcomes. He said that the university has already four private limited companies and a number of startups are in the process of registration. All the deans, directors HODs, faculty members and students attended the meeting.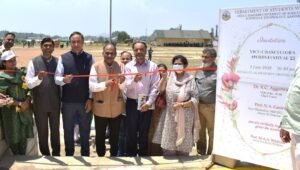 On the occasion, the IDP newsletter 'Agrucation' and some other publications of the university were also released by the DDG ICAR.
After the review meeting, Dr Agrawal visited the startup exhibition and interacted with the startup founders about their ventures. The startup founders, innovators and faculty members, who went for overseas fellowships under NAHEP, presented their ideas and outcomes. outcomes and ideas
Later, Dr Agrawal inaugurated Vice Chancellor's Sports Festival. A cultural programme by the students under Dean Students Welfare was also presented.
For the next two days, Dr Agrawal will be visiting the Faculty of Veterinary Sciences and Faculty of Forestry, where he will visit NAHEP created facilities, attend various functions and interact with students.
Udhampur youth makes saffron cultivation possible in uncultivable terrain
Inspiration
At a time when people in Kashmir are losing interest in saffron farming, an Udhampur youth has won many accolades for making profitable cultivation of the world's costliest spice in parched lands of this mountainous district.
Born in a family of farmers in Mir village of Panchari area of Udhampur district, Angrez Singh became the household name for his hard work and dedication not only in his village but to the whole union territory of Jammu and Kashmir for successfully growing saffron in his fields despite the high temperature in the district.
"I have put in a lot of efforts and hard work as growing saffron in the first place was not an easy job that too in a place like Udhampur," Singh said.
"Youths should cultivate saffron in their abandoned fields. One can earn his livelihood decently."
Saffron is cultivated in regions that are about 1500-2800 meters above sea level, where there is snowfall in winters. September to October is the right time for planting saffron tubers. The quality and price of saffron are determined by its colour, taste, and aroma.
Angrez has been into saffron cultivation for the last many years with limited resources available in the area. The Mir village where Angrez grows saffron is located at an altitude of 1761m above mean sea level and is almost 40 km interior of Udhampur's main town with very limited connectivity.
"Climate of Panchari is very cold. Saffron needs one thousand chilling hours (minus seven degrees temperature) in a year. I planted saffron bulbs in Mir village of Panchari, which is getting a good yield for three years. Its seed (bulb) will be prepared after the completion of four years," said Singh.
Angrez Singh started saffron cultivation in 2018 under the NMHS project on his land in the far-flung area of Udhampur district with limited resources available in his area.
"Angrez showed a lot of dedication from the very beginning of the project and without his dedication, it was not possible to grow saffron at the place where Angrez lives because it's a far-flung area with limited resources available. Angrez Singh is the role model for the young generation and youths interested in farming should follow Angrez," said Dr Amjad M Husaini Principal Investigator NHMS project at SKUAST-K.
Angrez Singh has also been receiving inputs and guidance from the project staff "A Value Chain of Saffron in New Areas of NW Himalayas by Engaging youth and Women for Strengthening a Bio-Based Green Economy" on regular basis and has been growing saffron successfully.
"Without the support and direction of Dr Amjad M Husaini things would not have been possible for me," said Angrez Singh.
Besides, Kashmir's Pampore, the crop is at present grown in the Kishtwar district of Jammu and Kashmir and the annual production stands at seven tones. The demand for saffron is much more than the annual production of saffron in India. Most of the saffron is being imported from Iran to meet domestic demand. Iran is the world's leading producer of saffron, with 300 tons produced each year followed by Spain and India.
"Farmers can earn good profit by adopting this model in climatic areas like that of Panchari," said Angrez Singh, who has also worked on floriculture and mushroom cultivation in Panchari earlier, which has benefited many farmers.
Angrez Singh won the best farmer award at the two-day international conference on "Saffron and Seed Spices-Innovative Technologies for Sustainable Development" held at SKUAST-K Shalimar campus in the early spring. The conference provided a multi-disciplinary forum for scientists across the globe particularly in India, Iran, Spain, Morocco, Azerbaijan and Afghanistan.
 In the inaugural session, a few publications related to saffron cultivation and practices were released, among which "saffron cultivation in Kitchen Gardens" by Dr Husaini is of special interest to the common people who wish to cultivate the crop in their kitchen gardens for domestic use thereby boosting the immunity of children.
"We have similar results in the village Gandhari, Ramban where another progressive farmer Rehmatullah Rounyal got the best saffron award last year in 2020 from the district administration," said Amjad Husaini, "more farmers like them should come forward so that we can expand this prestigious crop in suitable non-traditional areas".
Angrez Singh is extremely proud of his achievements and wants to cultivate more saffron in the coming future because saffron has given him "fame, recognition, and money".
"I want to excel in this field because it gave me everything," he concludes.
Editorial | Modernise Horticulture 
The turbulent political situation in Jammu and Kashmir for about the past three decades has marred its economic development. From being a self-sufficient state in its economic needs once, J&K has now reached a situation where it always has to be dependent on the central funds.
More than 50% of its expenditures are met from the aid and grants provided by New Delhi. Besides, J&K each year raises hundreds of crores in the form of debt. It is becoming extremely difficult for the government to pay back the interest on this debt, not to talk of the debt itself.
The political situation created vested interests and inefficient governments always had something to blame to keep away from prioritising the economic and other developmental needs of the people. An economically weak J&K suited these vested interests, the planning and policies they made never had been for reaping the available resources of the UT. Rather, certain sectors, which are totally dependent and interlinked to external forces, were given priority over the sectors, which have been time tested in J&K and are mostly weathered to external conditions.
J&K in general and Kashmir, in particular, has been an agrarian economy for centuries. And the available natural resources in the state are fertile land, forests and an abundance of water added to temperate climatic conditions, which makes it one of the best-suited places for agriculture, horticulture and other related occupations in the world.
Though the majority of the people here are associated with this profession but the mode of their operations is still primitive with negligible use of technology. Despite that, it is the main contributor to the economy. According to recently issued government figures, yearly export returns from the fruits are about Rs 10,000 crore which is only next to government salaries. Kashmir valley supplies more than 70% of the total consumption of apples in India. But a Kashmir apple fetches only half of what a Himachal Apple gets. J&K has not enough post-harvest infrastructure available and processing of the fruits is happening at a very limited level.
There is no horticulture policy in the state like we have a policy for tourism. Neither there has been any bigger provision in the state budget for the horticulture industry, except for a few tax concessions and schemes introduced in recent years.
Some of the schemes introduced by the government, like high-density plantations look very promising and the results it has shown so far are encouraging. Similarly, the government has roped in some outside investments like that of NAFED for developing high-density orchards and creating infrastructure like cold storage. These tie-ups are very important and will provide the much-needed capital for modernising the horticulture sector in UT. But some farmers have shown scepticism saying that these same are being planned in such a way that will benefit the middlemen and businessmen rather than the farmers.
The UT administration must make sure that all the schemes are formulated in a way that their first priority must be to benefit the poor farmers instead of creating a class of middlemen.
No doubt the horticulture industry needs modern post-harvest technology, processing infrastructure and new marketing strategies. This is only possible if UT makes the sector a priority and there is a long-term policy for it, which particularly revolves around the farmers. Modernising horticulture is the only way to bring economic self-reliance to Jammu and Kashmir.