No point keeping them home, get children back to school
Technology is all fine but only for tech-savvy students, in villages and remote areas of J&K, the case is not so
Dr Mehnaaz Rehman
Screen timings are good for entertainment but getting educated on the screen is entirely a different cup of coffee. It is obvious that academic development will suffer. More importantly, behavioural changes such as impatience and aggression are emerging. This is only going to increase in case the children sit back home and at the end of the session go on protest for the cancellation of the exams. Older children are susceptible to depression. They cannot play sports. They are talking like adults but without the kernel in what they speak. Two sessions have gone, and if now also they sit back at home, the third one too stands on the edge. Get children back to school. Two years without being in school is a bit indigestible, but that is where things stand now. The children are lagging, and this long break may affect them for years they have to travel in life. The situation is pretty bad on the educational front in the Union Territory, and it is time to take harsh decisions.
I will give you a small example here which I did read and this one really gives hope that where the will is there, things can move along even in the most difficult of times and this one is though the virus seems nowhere in the vicinity, it still is. Hiware Bazar, a village in Maharashtra's Ahmednagar district, got rid of Covid in mid-May this year, and it became the first place in the country to reopen schools since the second wave pandemic stormed the nation. Not only did it start its schools, but the village has also gone one step ahead and asked the state government of Maharashtra to think on similar lines and reopen the schools in rural areas where Covid-19 cases have come down significantly. Schools from standard V to standard X have started functioning in the village, recording almost 100 percent attendance. It was the parents and teachers who called for opening the schools. They vehemently said that education with the help of smartphones was no education. Though it could be a substitute as a stop-gap arrangement, it definitely in no way could replace the time and tested mode of teaching. The village panchayat officials coordinated with teachers, doctors and Zilla Parishad officials to prepare for reopening schools, and from June 15, children started going to school again. This could have been followed here too in J&K. The children in UT Jammu and Kashmir rural areas are struggling, straggling and suffering education-wise because they have realized that free passes to the next classes will not help them in future. The school which I'm talking about did nothing big or spectacular but stressed the basics. They are following Covid-appropriate behaviour to keep the virus away. The village panchayat has enforced a Standard Operating Procedure (SOP) to ensure schools run smoothly and that risk to children, teachers or parents is minimized. Minimal physical interaction is key. Outdoor games have been stopped so that students don't come in close contact with one another. School timings have been reduced to three hours, and there is no lunch break. Social-distancing norms and the wearing of masks are strictly followed. Classrooms and toilets are sanitized regularly, and every child, teacher, and non-teaching staff member is screened for Covid symptoms. Incidentally, the school does not have official permission to function as the state has not allowed educational institutions to reopen. But at the same time, the district education officials have not stopped the schools from working. No one will unduly interfere in the function of the schools provided the laid down norms are followed. By now even the children have realized that this virus hits goddamn hard so it is better to keep away from it and not let the educational aspects suffer and without it, the load on the shoulders is bound to increase and a time would come down the years that they would not be able to carry it on their fragile shoulders!
If you are sitting with a book in hand, just say to yourself, you are not reading this book because a teacher assigned it to you. You are reading it because you have a desire to learn, and the desire to learn is the biggest advantage you can have. One more thing, the distance between knowledge and wisdom is enlightenment, and technology cannot fulfil it.
Other than opening sporadically for older children, schools have remained closed since March 2020. Education has been conspicuous by its absence from government agendas. We understand the concern around safety. But, as parents, the focus on opening indoor spaces other than schools is worrying. The stress seems to be on competitive exams and not on the basic levels, where gaining knowledge and learning the concepts are the most important facets. Safety must be balanced with physical and mental development. As a fourth-grade teacher in the US described it, virtual learning has reduced the 'collaborative magic of the classroom' into little more than an instructional video'.
The elected leadership may not want to admit it, but digital India is still some time away. According to Save the Children, during the first wave in 2020, three out of every four children had no internet access and four out of five children reported obstacles to learning (including the inability to understand and too many chores). Many families would have more than one school-going child, but one smartphone, if at all. Many parents cannot assist their children given their own lack of education. Many children have been deprived of mid-day meals, thereby increasing the burden on already struggling families there are reports of children being forced into child labour and marriage. Even while writing about it one feels bad but the same is, actually, happening.
With the growing popularity of e-learning, it occurred to me that this should mean more than electronic. If we are going to call it e-learning, shouldn't it be effective, efficient, and engaging? No doubt again that the teachers try to make the whole process interesting but do the children really listen and grasp as to what their teacher is trying to explain to them? Some do but maximum doesn't. It has almost been 17 months now that this has been going on but still, it makes one believe with more affirmation that the most effective learning takes place in the classroom, where you can easily raise your hand, engage in spontaneous discussions with classmates and faculty, turn to the person next to you to ask for clarification, or approach the teacher/professor after the class or during office hours to ask questions or exchange viewpoints in a way that practically guarantees an instant response and is not constrained by typing, software interfaces, or waiting for a response.
I have heard teachers saying, we are sceptical that distance education based on asynchronous internet technologies (i.e., prerecorded video, online forums, and email) is a substitute for live classroom discussion and other on-campus interaction. In this sense, the process of dialogue between an instructor and the student is actually limited by technology. India's failure to designate school staff as frontline workers was a costly mistake. On the contrary, government school teachers were deployed for elections and management of quarantine centres.
There is no doubt that the teachers have tried and given their best but have limited ability to teach fundamental concepts and enforce discipline by the usage of technology. It simply cannot be done. The touch and feeling closer matters a lot, and digitized learning cannot cater for that. Knowledge is available on the web in abundance and no doubt about that but the fact the same has to be understood. If there is no basic knowledge of the same, then how would a child learn? That is the difficulty being faced.  Young students have limited ability to learn. They cannot.  At the best, they can mug up the rant and the rote but that is just not the solution.
Education is the only way India will emerge from the clutches of poverty. Our future generations are not only being deprived of education but are also undergoing physical and mental damage. We can do everything to save ourselves today, but prolonged school closures are jeopardizing the future, perhaps in ways, we do not yet understand. Other countries might be able to get everything back in place in no time, the same cannot be said in the Indian context. It took years for our nation to break the shackles of illiteracy and provide education to children including the vulnerable sections of the society and it might take years again to get back on track if there is any further delay in the re-opening of schools.
Covid-19 has sent the learning and education of children their health and well-being reeling. Everything looks haphazard and confusing. The fear that we are unsafe still stalks but we have to move on. By not thinking about the reopening of schools, we are compromising with their present and future. Let us ensure that we do not take the nation and the future generation back to medieval times. Therefore the action now is most important rather than sitting back and pondering. What would be the use of high pedigreed competitive exams when there would be no competition at all? This way we are heading towards that scenario.
An exploring mind is the most precious gift in life and it's very keen to learn without any judgmental eye. Online learning was a great experience for the teachers and the students here in the Union Territory but it's time to get back to the classrooms because it is the children who are losing it on time. This is their time to learn and not to sit back in the dreamland of their own because ten years from now it won't really matter what school you attended, whether online or offline education, free or paid, widely known or not, what will matter most is what you learned, the skills you acquired and how you leveraged it. No one will talk about the pandemic you lived through, but they will definitely ask a couple of things, did you waste time or did you learn something to enhance your knowledge. The second would be, if you wasted time there is no place for you here but if you learnt something then show us what you can do? This is the script that is being written by some invisible hands for the future of the children today! Trust me, it is being or may have already because the future is not far away!
The author is Vice Principal of Ayesha Ali Academy, Kanipora, Kulgam
SKUAST-K to hold 2-day international conference on impact of viral infections
BK News 
Srinagar, Nov 1: Sher-e-Kashmir University of Agricultural Sciences and Technology of Kashmir is going to hold a two-day international conference on the impact of viral infections at the Shalimar campus on November 5&6 (Saturday and Sunday), 2022.
The international conference 'Emerging and Re-emerging Viral Infections Impacting Humans, Animals, Plants, Fish and Environment' will be part of  XXX Annual Convention of the Indian Virological Society to be held at SKUAST-K this year.
Renowned virologists and scientists including, Dr RK Ratho, PGI Chandigarh; Prof Parvaiz A Koul, SKIMS, Soura; Dr Pragya Yadav, NIV, Pune; Prof NN Barman; AAU, Assam; Dr Anirban Roy, IARI, New Delhi; Dr Amit Pandey, Bhimtal; and Dr Manoj Kumar, Hester Biosciences Limited will be keynote speakers at the conference.
The conference on viral infections is being held against the backdrop of the emergence and re-emergence of viral outbreaks like Covid-19, severe liver inflammation in kids, monkeypox, polio, and "tomato flu" etc.
The recent outbreak of the LSD virus has killed over 1 lakh cattle and is still unabated. Each viral disease appears to be the result of unusual manifestations and proliferation of viruses previously known.
The conference on viral infections will bring scientists from different disciplines at National and International levels to discuss preemptive measures for anticipating such outbreaks, control measures to be taken, and readily available diagnostic and therapeutic measures. The keynote speakers will talk about research going on emerging and re-emerging viral diseases and the policies surrounding them.
Dr Rayees bags young scientist award
BK NEWS
Srinagar: SKUAST-K faculty, Dr Mohammad Rayees Dar, has been awarded the young scientist award for outstanding contribution in the field of veterinary physiology at an event held at Gandhi Bhawan, University of Kashmir.
The award was presented at the valedictory function of a three-day international conference titled "Advances in Agricultural, Veterinary, and Allied Sciences for Improving Livelihood and Environment Security" (AAVASILES-2022), at Gandhi Bhawan, University of Kashmir.
The conference was co-hosted by the National Agriculture Development Cooperative Ltd (NADC) Baramulla, J&K, and the ICAR-Indian Grassland and Fodder Research Institute, Regional Research Station, Srinagar, J&K, and ICAR-NAHEP, BAU, Ranchi, Jharkhand.
Dr Rayees, a contractual faculty at SKUAST-K's Division of Veterinary Physiology, Faculty of Veterinary Sciences, Shuhama, has PhD in Veterinary Physiology from ICAR-National Dairy Research Institute, Karnal.
He has qualified for prestigious national-level scholarship tests in India conducted by the Indian Council of Agricultural Research, New Delhi, India. Previously, he was also selected for an advanced research workshop for "Frontiers in Stem Cells & Regeneration" at Marine Biological Laboratory, USA, where he was supported by a grant from the National Institutes of Health, USA. He has also received honours and awards including the JN. Pandey Memorial Award by Society of Animal Physiologists, India (2014), Best Paper Award by Indian Farmer (2015); Best Poster Presentation Award by NAARRI, India (2016), Bharat Jyoti Award (2018), Best Citizens of India Award (2018), Outstanding/Best PhD Thesis Award by RARI, Jaipur, India (2019) and Best Paper (Oral Presentation) Award by NADCL, Srinagar, India (2019).
At the conference, prizes for oral and poster presentations as well as awards for distinguished and young scientists, best PG/PhD thesis, and best farmers in a variety of specific sectors like mushroom farming, horticulture, organic farming, seed production, and fodder development were given to the scientists and research scholars.
DDG ICAR on SKUAST-K visit to reviews World Bank-funded NAHEP
BK Media
Srinagar, June 9: Deputy Director General (DDG) of Indian Council of Agricultural Research (ICAR), New Delhi, Dr Rakesh Chandra Agrawal reviewed the institutional development plan (IDP) of Sher-e-Kashmir University of Agricultural University of Sciences and Technology of Kashmir under the World Bank-ICAR funded National Agricultural Higher Education Project (NAHEP) and presided over a series of functions here at Shalimar campus on Thursday.
Dr Agrawal, who is also the National Director of NAHEP, is on a three-day visit to SKUAST-K to assess the progress of the prestigious Rs 30-crore project awarded to the farm university in July 2019.
The DDG, while addressing the review meeting on early Thursday morning, complimented SKUAST-K for being one of the top performers under the NAHEP. He said among 64 farm universities and institutes, SKUAST-K is doing remarkably well under the project, and both ICAR and World Bank monitoring and evaluation teams have given excellent reviews and have rated the SKUAST-K performance as outstanding.
While talking about the implementation of NEP-2020 in agricultural universities, Dr Agrawal said now the focus should be on own revenue generation so that these institutions can become self-reliant by 2035 as required by the policy. He said SKUAST-K has a lot of opportunities to create its revenue model from various entrepreneurial ventures and services it can provide.
While appreciating SKUAST-K's proactive role in sending its faculty and students for overseas trainings and exposure trips, Dr Agrawal said, to become a global university, SKUAST-K must now work on bringing international students to the university and organise international programmes. During the meeting, he also interacted with the SKUAST-K students, who are on a visit to Kansas State University, USA. He said this kind of exposure helps making students future leaders and provides them with the confidence to overcome various challenges while building their careers.
The DDG stressed providing an eco-system to students so that after leaving the university they won't be dependent on government jobs rather open their own entrepreneurial ventures.
Vice Chancellor, SKUAST-K, Prof Nazir Ahmad Ganai, while briefing the DDG about the progress of SKUAST-K under NAHEP said that the place the university has made for itself among the top farm institutions of the country is only because of the ICAR support and NAHEP. The changes that have happened in the university and the milestones achieved are because of the NAHEP. He said the university is conducting every day an event, training or workshop under the NAHEP.
Prof Ganai said earlier that students in the university would attend classes, complete the degree and go home to wait for a job but due to exposure and skills they got because of the project have changed their mindset. Now they are thinking of themselves as the solution providers. He said that SKUAST-K has to become the agent of change to work for making the J&K farm led bio-economy of the country. He said the project has also inspired us to set the goal of becoming the first innovation-led farm university in the country.
Director Education, Prof MN Khan presented a vote of thanks. OSD to Vice Chancellor, Prof Azmat Alam Khan gave a detailed overview of the NAHEP activities carried out in the university and the impact of these activities in terms of output and outcomes. He said that the university has already four private limited companies and a number of startups are in the process of registration. All the deans, directors HODs, faculty members and students attended the meeting.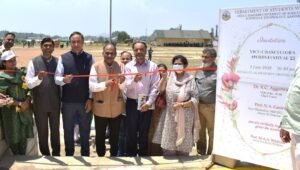 On the occasion, the IDP newsletter 'Agrucation' and some other publications of the university were also released by the DDG ICAR.
After the review meeting, Dr Agrawal visited the startup exhibition and interacted with the startup founders about their ventures. The startup founders, innovators and faculty members, who went for overseas fellowships under NAHEP, presented their ideas and outcomes. outcomes and ideas
Later, Dr Agrawal inaugurated Vice Chancellor's Sports Festival. A cultural programme by the students under Dean Students Welfare was also presented.
For the next two days, Dr Agrawal will be visiting the Faculty of Veterinary Sciences and Faculty of Forestry, where he will visit NAHEP created facilities, attend various functions and interact with students.