NAFED to invest Rs 1,700 cr in J&K to develop 1.10 lakh kanal high-density orchards
Will develop Rs 500-cr cold storage cluster, setup 20 farmer-producer Organisation; signs MoU with UT Govt
BK News
Srinagar, Jan 1: National Agricultural Cooperative Marketing Federation of India (NAFED) will invest Rs 1,700 crore in Jammu and Kashmir to develop high-density orchards on 1.10 lakh kanal of land.
The apex organization of marketing cooperatives for agricultural produce in the country will also set up three cold storage clusters, one in Jammu division and two in Kashmir division with an investment of Rs 500 crore, besides setting up 20 Farmer-Producer Organizations, one in each district of the UT.
In this connection, NAFED on Friday signed a memorandum of understanding (MoU) with J&K Government.
The MoU was signed between Principal Secretary Agriculture Department Navin Kumar Choudhary and Managing Director, NAFED, Sanjeev Kumar Chadha in presence of Lt Governor of J&K Manoj Kumar Sinha.
J&K Government, in a statement, said the MoU is an important step towards the promotion of horticulture produce of J&K and to take it to the global market.
"The MoU with NAFED is seen as a game-changer for the horticulture sector in Jammu and Kashmir. High-density plantation of apple, walnut, cherry, flowers etc has the potential to increase the income of farmers by three to four times," the statement said.
NAFED will cover 5500 hectare (1.10 lakh kanal) of land at a cost of Rs 1,700 crore in the next five years with a major focus on apple, walnut, cherry, pear and other significant horticulture produce. NAFED will also set up 20 Farmer-Producer Organizations, one in each district, in the next three months.
The NAFED will set up three cold storage clusters, one each in North Kashmir, South Kashmir and Kathua at a cost of Rs 500 crore, besides ensuring Geographical Indication tags (GI Tags) for all premium and niche horticulture produce, branding and marketing of fruit crops like apple, walnut, cherry, olive, litchi etc.
Increasing productivity with technology intervention UT Govt's top priority: LG
Speaking at the MoU signing ceremony, the Lt Governor said the J&K Government is tirelessly working on four issues that are being addressed on priority -increasing productivity through the intervention of technology; ensuring best price and market support; mitigation of risks, and diversification through allied activities.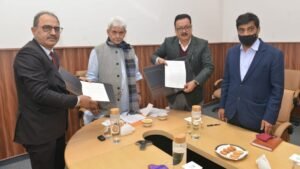 The Lt Governor said that horticulture produce of Jammu division will be given a major push for marketing and NAFED will also look into the possibility of the high-density plantation of apple in Kishtwar and Bhaderwah.
"The UT Government will work with NAFED to promote horticulture produce and to set up a quality planting material lab. GI tagging of all premium horticulture produce and marketing is a top priority of the administration. The investment in various areas to promote and market horticulture produce is being made for faster expansion. We intend to increase Cold Storage capacity, identify and promote horticulture produce of Jammu division to ensure better price to farmers," the Lt Governor said.
As per the MoU, NAFED with J&K Government will create post-harvest infrastructure for agriculture and horticulture crops in the form of cold atmosphere stores, grading and processing facilities in future at the locations decided by the UT administration. Besides, implementation of the high-density plantation, NAFED will develop hi-tech nurseries for raising rootstock and also import it to facilitate the farmers.
This historical initiative involves setting up virus indexing labs as per latest protocol for testing of quality planting material. The MoU has given a major thrust to marketing. The NAFED with J&K Government will work on branding and marketing of fruit crops and establishment of market linkages for exotic and non-seasonal vegetables and flowers in different metro cities of India.
Sanjeev Kumar Chadha, Managing Director, NAFED said the organisation will work in a time-bound manner on each point to increase productivity and also ensuring availability of hybrid vegetable seeds and high-value exotic vegetable seeds while giving special focus to popularize aromatic plants of Jammu division.
Navin Kumar Choudhary, Principal Secretary to the Government, Agriculture and Horticulture Department, J&K said that all the required infrastructure including cold storage and processing facilities will be made available in a short span of time to take horticulture of Jammu and Kashmir in the global market. The robust mechanism for branding and marketing of horticulture produce and market linkage within the country will revolutionize the agriculture and horticulture sector in Jammu and Kashmir, he added.
BVR Subrahmanyam, Chief Secretary; Arun Kumar Mehta, Financial Commissioner, Finance Department and Nitishwar Kumar, Principal Secretary to the Lt Governor, besides other senior officers attended the MoU signing ceremony, in person and through virtual mode.
Tajamul Islam Salroo
Slump in Dairy Business! Dairy Business has been showing unexpected disruptions on and off for the last couple of years. And this time it is once again showing a slump. Being associated with the dairy business I have tried to come up with some possible reasons for the ongoing dairy business slump as described below.
It is observed that consumer preferences and expectations have changed over a period of time. People have become more informed and hence, expect more freshness, taste, and nutritional value in dairy products, in particular and other food products, in common. With the rise in the number of brands for the same product people have a good amount of choice to make before purchasing the one. It has been seen that consumers look at labels and ingredients and then decide what must be taken. A good percentage of consumers are inclined towards traditional dairy products while some more health-conscious people have already reduced the intake of dairy products in their day-to-day lives.
Over the last few years, many substitutes for dairy products have come up. As far as I have observed there is a distinct consumer base for different dairy products with the same application, unlike earlier times. Earlier many people used to think that milk powder was not a milk product but made from something unknown. Similarly, people could not believe milk could stay fresh for months altogether as they were not so informed about UHT processes and the hi-tech packaging that retains the freshness of these dairy products. Now consumers ask for Whole Milk Powder, Skimmed Milk Powder, Dairy Whitener, UHT Milk, Soya Milk etc. Thus, a division has been created among dairy consumers as per their choice of preferred storage and consumption.
It is also a hard fact that the present-day consumer has become quite conscious of the contamination and adulteration of essential food products. Many expect dairy products from reputed companies to be unadulterated, tested adequately before dispatching to markets and meeting all the standards of freshness, taste, and nutritional value. In the past several years the information disseminated through various media sources about contamination and adulteration has given rise to the introduction of analogue products that are being promoted as a better alternative by its manufacturers. And people have started switching to those alternatives.
We must not sideline that a section of consumers has turned health-conscious and mindful. Many people don't want fats in their diet and they have hence moved either to skimmed milk or milk-less beverages. Nowadays a large number of people are seen taking black or green tea instead of traditional milk tea which was not the case a few years back. And that is a challenge for the dairy business.
Organic dairy products have evolved and are believed to have a smaller carbon footprint and are therefore preferred by the contemporary consumer who pays due attention to the labels and opts accordingly for the food of his choice. It is also noteworthy that small dairy business units have been established by young and educated youth to sell organic dairy products in the markets of Kashmir.
Last but not least individual economic condition over the last few years has worsened with inflation which seems to be a big reason for cutting down on daily needs to a certain extent. Though it is believed to get better in the next couple of years but the present situation is dismal.
It, therefore, becomes necessary for dairy business firms to get into a good research methodology and innovation to develop new products with an emphasis on best quality control and nutritional benefits.
An MBA graduate, Tajamul Islam Salroo is running a Dairy Processing Unit at the Lassipora Industrial Estate
SKUAST-K developed maize variety released at national level 
KDM-30 released for cultivation in J&K, Himachal Pradesh, Uttara Khand, Assam, Meghalaya, Ladakh and Manipur
BK News
Srinagar, May 6: Sher-e-Kashmir University of Agricultural Sciences and Technology of Kashmir (SKUAST-K) developed maize variety has been released recently at the national level for cultivation in the cold climatic Northern Hill Zone of the country.
Cold resistant early maturing high yield maize composite, KDM-30, suitable for cultivation in J&K, Himachal Pradesh, Uttarakhand, Assam, Meghalaya, Ladakh and Manipur, was recently released in the 66th Annual Maize Workshop held at GBPUAT, Pantnagar, Uttarakhand.
"The variety (KDM-30) performs better than the best national check, Vijay with 13% more grain yield and moderate resistance to diseases and pests like Turcicum Leaf Blight and Maizw Stem Borer," said Dr Zahoor Ahmad Dar, associate director at the SKUAST-K's Dryland Agriculture Research Station (DARS), Rangreth, Budgam.
Dar, who along with Dr Ajaz Ahmad Lone was leading the team of scientists involved in developing this cold-resistant maize variety, said KDM-30, besides being highly cold tolerant, gives more yield and better disease protection than Vijay, which is considered the best maize variety in the country.
The maize composite is derived from materials obtained from international and national nurseries, which were subsequently hybridized with the local material to incorporate uniqueness like cold tolerance, early maturity, and high grain quality.
The SKUAST-K developed maize variety possesses a high level of carotenoids as well as the unique expression of cold-tolerance-regulated enzymes at the molecular level. The KDM-30 is going to replace Kishen Ganga-1 (KG-1) variety in high-altitude areas of the Northern Hill Zone (up to 2500m amsl) and can be a potential candidate to serve in cold arid Ladakh Region as a dual-purpose crop where it has been initially evaluated for grain-to-grain maturity in native cropping window.
While congratulating Dr Zahoor Ahmad Dar and Dr Ajaz Ahmad Lone for developing the high-yield maize variety, Vice Chancellor, SKUAST-K, Prof Nazir Ahmad Ganai, directed upscaling seed production and utilizing rain-fed ecologies for grain and fodder production to sustain the dairy and poultry industry.
Deteriorating legacy of saffron industry in Kashmir
Athar Ayoub
Saffron industry in Kashmir
One of the oldest and yielding family occupations prevalent in the valley of Kashmir has been the cultivation of Saffron. The karewas of Pampore are internationally known for the quality and quantity of saffron across the world. Through the ups and downs of time and periods of natural and man-prompted disasters, this sector has been quietly yielding a stable and rather steadily growing output over the period of time. Generations after generation have been associated with the cultivation and rearing of saffron. People across the binary gender, residing predominantly in the Pampore area have been habitually and evolutionarily working in this sector.
On the technical side, though India ranks second only after Iran in terms of productivity of cultivation in Saffron it ranks seven. This points to the existence of huge inefficiency in the saffron production of the country. For years at a stretch, there has been under-production happening in the saffron production of the country. More than 90% of India's saffron cultivation comes from Kashmir, estimated to be around 15.04 metric tonnes (MT) for the year 2021. However, for the last fifty years, there has been a considerable decline in both the cultivable land and the overall Saffron productivity in the valley of Kashmir. While in the year 2009, the total area under cultivation for Saffron was 2667 hectares with a production of 5.61 tonnes, almost a decade earlier in 1997 it was 5707 hectares and 15.97 tonnes respectively. These numbers highlight a decline of 114% in area and 184% in yield in a time period as short in span as 12 years.
For years at a stretch, there has been under-production happening in the saffron production of the country. More than 90% of India's saffron cultivation comes from Kashmir, estimated to be around 15.04 metric tonnes (MT) for the year 2021. However, for the last fifty years, there has been a considerable decline in both the cultivable land and the overall Saffron productivity in the valley of Kashmir. While in the year 2009, the total area under cultivation for Saffron was 2667 hectares with a production of 5.61 tonnes, almost a decade earlier in 1997 it was 5707 hectares and 15.97 tonnes respectively. These numbers highlight a decline of 114% in area and 184% in yield in a time period as short in span as 12 years.
Results like these are an outcome of a number of factors that have cumulated over the years. Some of the most commonly identified factors include; lack of availability of good-quality corms as seed material, poor soil fertility, lack of assured irrigation, infestation by rodents and diseases, poor postharvest management, improper marketing facilities, increased urbanization on saffron land, the helplessness of the Government in checking adulteration and clandestine smuggling of cheap saffron (allegedly from Iran), which is later sold and marketed in the name of Kashmir saffron.
Simultaneously from time to time, certain measures have been put in place to restrain the underproduction in Saffron cultivation, so as to bring in a change and reach as closer to the potential output as possible. The fundamental channel of intervention and attainment of the aspired output is from the government directly to the grower. Quite contrary to this, the existence of intermediaries leads to multiple failures towards the attainment of the prosed outcomes. Analysing the current trends, it turns out that in the past decades the maximum marketing margins were accumulated within the pockets of intermediaries (retailers and agents) followed by wholesalers, leaving the primary saffron growers with an unfair share of their very own produce.
The saffron growers reveal that in contemporary times the causes of less productivity across the Kashmir region are: climate change, non-availability of timely irrigation and information asymmetry between those framing the policies for the farmers and the farmers themselves. Though the government has been initiating measures to revamp the damage, the Saffron cultivators conclude that almost 60% of the land under which saffron is cultivated was brought under a pipeline network scheduled to irrigate the land. However, in practice, the project has been full of flaws and thus ended up failing miserably. Leaving the land yet again to the mercy of timely and untimely rains. The saffron growers in the first place lack scientific knowledge, do not have access to modern know-how and technology and at the same time lack all sorts of trust over the government. One such typical example is the sale of hybrid saffron corms that the government announced some years ago. Given the mistrust between the people and the government, it was rumoured that the sowing of the hybrid saffron corm distributed by the department of agriculture will transfer the private property rights of the owners to the government. As a result, the vast majority of saffron cultivators didn't take those corms and the productivity and output ended up remaining under-attained.
Whatever interventions the government and administration intend to make, the campaign of enhancing the productivity of saffron would not bear the desired results unless for starters a certain level of trust is established between the saffron cultivators and the government. Following this, facilities for assured irrigation need to be created, at least at the pre-sprouting and pre-flowering stages. Irrigation facilitates lead quick activation of buds, further leading to the corm sprouting and the eventual timely flower initiation. An empirical study by Nehvi (2004), and Nehvi and Makhdoomi (2007b) bring forth the fact that an annual saffron crop requires an average of 10 irrigations, and needs to be sprinkler irrigated for seven days at the sprouting stage (which is approximately around 25th August to 15th September) followed by three irrigations at the post-flowering stage (around 8th to 30th November) at weekly intervals.
In a recent and rather unusual move, the Government of India initiated a National Saffron Mission (year) with a financial outlay of Rs 3.74 billion for resolving the saffron crisis in Kashmir through different programmes. This program includes rejuvenating saffron farms by corm re-planting, digging bore wells for irrigation, and setting up a modern Saffron Park with a quality control laboratory for providing adequate marketing cover to saffron growers, thus eliminating exploitation by middlemen. However, from the ground, there are mixed reactions and opinions coming from the farmers about the initiation and implementation of the mission. The actual attained outcome from this mission and its various programs is yet to be ascertained for success or failure.                                                        Saffron Industry in Kashmir.
Case-Study
"The JK Agro" is a registered saffron firm which has been gainfully employing generations of the Khanday family from Pampore. It has been around six years since the third generation has overtaken the business. The upcoming generations from the saffron families have been trying to expand and diversify the business. One of the most common channels has been through proper marketing, e-marketing and processing of the saffron and allied products. JK Agro, in an attempt to expand, has been making huge investments. But the major hurdle faced by it in attaining the expected growth has been the declining productivity of output. As a result, the younger generation of small and medium-scale saffron farmers have steadily been moving out from the industry and instead looking for other sources of employment. However, families like Khanday's are of the opinion that complete dependency on saffron might not be enough to fulfil their subsistence needs and hence are trying hard to find jobs distant from their ancestral domain…
Given the various facets discussed above, the broader conclusion drawn is that the decline in the cultivable land and productivity of saffron in Kashmir is the basic reason behind the ever-increasing crisis in the heritage-saffron industry of Kashmir. The most appropriate channel to win back the industry and the people associated with it is to stake strict actions towards the restoration of the karewas land and to scientifically enhance the overall productivity of the saffron in the Kashmir region.
The authors are affiliated with the Department of Economics, Islamic University of Science and Technology and can be reached at dhaarmehak@gamil.com