SKUAST-K to hold international conference on regenerative medicine 
2-day event to be held jointly with KU, IIT Kanpur 
Srinagar, April 26: Sher-e-Kashmir University of Agricultural Sciences and Technology of Kashmir in association with the Indian Institute of Technology, Kanpur and the University of Kashmir is organising a two-day international conference on 'Recent Advances in Biomedical Sciences and Regenerative Medicine (RABSRM 2022) on May 6&7.
The conference is being organised as part of the Scheme for Promotion of Academic and Research Collaboration (SPARC) programme, Ministry of Education (MoE), Government of India, that aims at improving the research ecosystem of India's higher educational institutions. Department of Science and Technology, GoI & World Bank-ICAR funded National Agricultural Higher Education Project for the institutional development of SKUAST-K are also supporting the event.
Department of Biological Sciences and Bioengineering, IIT Kanpur; Division of Animal Biotechnology, SKUAST-K; and Centre for Interdisciplinary Research and Innovations, KU are jointly organising the event to be held at SKUAST-K, Shalimar campus and KU campus, Hazratbal on May 6&7 respectively.
To review the preparations for the international conference, a meeting was held at SKUAST-K under the chairmanship of Director Research, Sarfaraz Ahmad Wani and Dean Faculty of Veterinary Sciences, MT Banday in which scientists, faculty members and organisers of the conference participated. 
The mega-conference is being held under the patronage of VC KU Prof Talat Ahmad and VC SKUAST-K Prof Nazir Ahamd Ganai. Prof Ganai, in his message, highlighted the importance of the conference in the present scientific era and hoped that it will provide an opportunity to discuss and deliberate on the issues shared across related fields concerning the improvement in life and working of mankind.
The RABSRM 2022 conference aims to bring together experts, researchers, young scientists and academicians from around the world to disseminate knowledge from interdisciplinary backgrounds. The knowledge provided by the eminent speakers and researchers will help to foster the research culture in the area of biomedical sciences and regenerative medicine at the universities of Jammu and Kashmir and around the country. The conference will provide an opportunity to discuss recent developments in biomedical research in health and diseases and foster future directions in drug discovery and therapeutic interventions. The themes of the conference include Bioengineering, Regenerative Medicine, Cancer Biology, Drug Design and Delivery, Vaccine Biology, Tissue Engineering, Biomaterials, Molecular Therapeutics, Animal Biotechnology, Stem Cell Gene Therapy & Biomarkers.
The conference solicits contributions of abstracts for oral/poster presentations that address themes and topics of the conference. Participants are required to submit their research abstracts online. Students/Postdocs/Faculties can submit abstracts describing original and unpublished results in all the areas of Biomedical Science and Medicine and are invited for the presentation at the conference after the acceptance. The template of the abstract can be found on the website: www.rabsrm.org. Among the leading National and International scientists participating in the two days event include the names of Jukka Seppälä from Aalto University, Finland, Andreas Nüssler from Univesity of Tuebingen, Germany, Jouni Partenan Aalto University, Finland and Hanna Isaksson from Lund University, Sweden as Key International Invited Speakers for the event. 
The event will be one of its rear kind in this part of the world where the professionals across diverse disciplines will be deliberating on the theme interrelated across all the steams of concern. The event is expected to host renowned professionals from various national and international organisations for the two days here at Srinagar. 
SKUAST-K to hold 2-day international conference on impact of viral infections
BK News 
Srinagar, Nov 1: Sher-e-Kashmir University of Agricultural Sciences and Technology of Kashmir is going to hold a two-day international conference on the impact of viral infections at the Shalimar campus on November 5&6 (Saturday and Sunday), 2022.
The international conference 'Emerging and Re-emerging Viral Infections Impacting Humans, Animals, Plants, Fish and Environment' will be part of  XXX Annual Convention of the Indian Virological Society to be held at SKUAST-K this year.
Renowned virologists and scientists including, Dr RK Ratho, PGI Chandigarh; Prof Parvaiz A Koul, SKIMS, Soura; Dr Pragya Yadav, NIV, Pune; Prof NN Barman; AAU, Assam; Dr Anirban Roy, IARI, New Delhi; Dr Amit Pandey, Bhimtal; and Dr Manoj Kumar, Hester Biosciences Limited will be keynote speakers at the conference.
The conference on viral infections is being held against the backdrop of the emergence and re-emergence of viral outbreaks like Covid-19, severe liver inflammation in kids, monkeypox, polio, and "tomato flu" etc.
The recent outbreak of the LSD virus has killed over 1 lakh cattle and is still unabated. Each viral disease appears to be the result of unusual manifestations and proliferation of viruses previously known.
The conference on viral infections will bring scientists from different disciplines at National and International levels to discuss preemptive measures for anticipating such outbreaks, control measures to be taken, and readily available diagnostic and therapeutic measures. The keynote speakers will talk about research going on emerging and re-emerging viral diseases and the policies surrounding them.
Dr Rayees bags young scientist award
BK NEWS
Srinagar: SKUAST-K faculty, Dr Mohammad Rayees Dar, has been awarded the young scientist award for outstanding contribution in the field of veterinary physiology at an event held at Gandhi Bhawan, University of Kashmir.
The award was presented at the valedictory function of a three-day international conference titled "Advances in Agricultural, Veterinary, and Allied Sciences for Improving Livelihood and Environment Security" (AAVASILES-2022), at Gandhi Bhawan, University of Kashmir.
The conference was co-hosted by the National Agriculture Development Cooperative Ltd (NADC) Baramulla, J&K, and the ICAR-Indian Grassland and Fodder Research Institute, Regional Research Station, Srinagar, J&K, and ICAR-NAHEP, BAU, Ranchi, Jharkhand.
Dr Rayees, a contractual faculty at SKUAST-K's Division of Veterinary Physiology, Faculty of Veterinary Sciences, Shuhama, has PhD in Veterinary Physiology from ICAR-National Dairy Research Institute, Karnal.
He has qualified for prestigious national-level scholarship tests in India conducted by the Indian Council of Agricultural Research, New Delhi, India. Previously, he was also selected for an advanced research workshop for "Frontiers in Stem Cells & Regeneration" at Marine Biological Laboratory, USA, where he was supported by a grant from the National Institutes of Health, USA. He has also received honours and awards including the JN. Pandey Memorial Award by Society of Animal Physiologists, India (2014), Best Paper Award by Indian Farmer (2015); Best Poster Presentation Award by NAARRI, India (2016), Bharat Jyoti Award (2018), Best Citizens of India Award (2018), Outstanding/Best PhD Thesis Award by RARI, Jaipur, India (2019) and Best Paper (Oral Presentation) Award by NADCL, Srinagar, India (2019).
At the conference, prizes for oral and poster presentations as well as awards for distinguished and young scientists, best PG/PhD thesis, and best farmers in a variety of specific sectors like mushroom farming, horticulture, organic farming, seed production, and fodder development were given to the scientists and research scholars.
DDG ICAR on SKUAST-K visit to reviews World Bank-funded NAHEP
BK Media
Srinagar, June 9: Deputy Director General (DDG) of Indian Council of Agricultural Research (ICAR), New Delhi, Dr Rakesh Chandra Agrawal reviewed the institutional development plan (IDP) of Sher-e-Kashmir University of Agricultural University of Sciences and Technology of Kashmir under the World Bank-ICAR funded National Agricultural Higher Education Project (NAHEP) and presided over a series of functions here at Shalimar campus on Thursday.
Dr Agrawal, who is also the National Director of NAHEP, is on a three-day visit to SKUAST-K to assess the progress of the prestigious Rs 30-crore project awarded to the farm university in July 2019.
The DDG, while addressing the review meeting on early Thursday morning, complimented SKUAST-K for being one of the top performers under the NAHEP. He said among 64 farm universities and institutes, SKUAST-K is doing remarkably well under the project, and both ICAR and World Bank monitoring and evaluation teams have given excellent reviews and have rated the SKUAST-K performance as outstanding.
While talking about the implementation of NEP-2020 in agricultural universities, Dr Agrawal said now the focus should be on own revenue generation so that these institutions can become self-reliant by 2035 as required by the policy. He said SKUAST-K has a lot of opportunities to create its revenue model from various entrepreneurial ventures and services it can provide.
While appreciating SKUAST-K's proactive role in sending its faculty and students for overseas trainings and exposure trips, Dr Agrawal said, to become a global university, SKUAST-K must now work on bringing international students to the university and organise international programmes. During the meeting, he also interacted with the SKUAST-K students, who are on a visit to Kansas State University, USA. He said this kind of exposure helps making students future leaders and provides them with the confidence to overcome various challenges while building their careers.
The DDG stressed providing an eco-system to students so that after leaving the university they won't be dependent on government jobs rather open their own entrepreneurial ventures.
Vice Chancellor, SKUAST-K, Prof Nazir Ahmad Ganai, while briefing the DDG about the progress of SKUAST-K under NAHEP said that the place the university has made for itself among the top farm institutions of the country is only because of the ICAR support and NAHEP. The changes that have happened in the university and the milestones achieved are because of the NAHEP. He said the university is conducting every day an event, training or workshop under the NAHEP.
Prof Ganai said earlier that students in the university would attend classes, complete the degree and go home to wait for a job but due to exposure and skills they got because of the project have changed their mindset. Now they are thinking of themselves as the solution providers. He said that SKUAST-K has to become the agent of change to work for making the J&K farm led bio-economy of the country. He said the project has also inspired us to set the goal of becoming the first innovation-led farm university in the country.
Director Education, Prof MN Khan presented a vote of thanks. OSD to Vice Chancellor, Prof Azmat Alam Khan gave a detailed overview of the NAHEP activities carried out in the university and the impact of these activities in terms of output and outcomes. He said that the university has already four private limited companies and a number of startups are in the process of registration. All the deans, directors HODs, faculty members and students attended the meeting.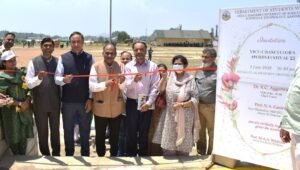 On the occasion, the IDP newsletter 'Agrucation' and some other publications of the university were also released by the DDG ICAR.
After the review meeting, Dr Agrawal visited the startup exhibition and interacted with the startup founders about their ventures. The startup founders, innovators and faculty members, who went for overseas fellowships under NAHEP, presented their ideas and outcomes. outcomes and ideas
Later, Dr Agrawal inaugurated Vice Chancellor's Sports Festival. A cultural programme by the students under Dean Students Welfare was also presented.
For the next two days, Dr Agrawal will be visiting the Faculty of Veterinary Sciences and Faculty of Forestry, where he will visit NAHEP created facilities, attend various functions and interact with students.